Hello & Adieu..........
I'm now officially joining the blogworld after a quite long time of deciding whether i should have one or just stick to my old manual journal, but hey it doesn't mean that im completely abandoning my old, reliable journal....its just that sometimes i'm just damn too tired to think and write at all...*wink*
Today is my last day of being 24 and im savoring every moment of it...so goodbye 24 hello 25...hehehhe...a year older again but i dont think i act accdg. to my age...hahahahha...coz i feel i am still so immature and still the old fickle-minded lady..lolz....hmmm...i'd better make these year be good to me coz i have a lots of promises to fulfill these year...
To recap here's some pics: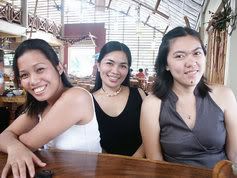 melody, riza, and me celebrating Riza's b-day at Jo's Chicken Inato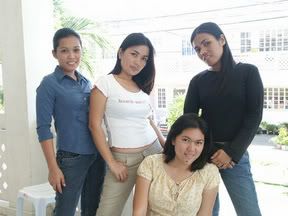 Power of 4....melody, riza, happy, and me (seated)